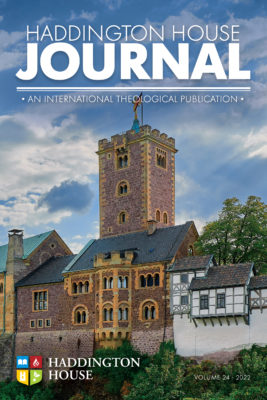 The Haddington House Journal is published in paper and electronic versions. To view the contents and purchase the paper version of the current volume (2022) click here.
The Electronic Version
The electronic version of the Journal is made available to the public several months after the paper copy is released. We sincerely thank subscribers and donors for their support in making this possible. We are pleased the 2022 electronic version of the Journal is now available.
If you are downloading the electronic version and wish to make a donation to help with costs, please use the Donation page located near the top of the website's Home page. Thank you.
Please note the Journal's Table Of Contents is "hot-linked". This means you can go directly to an article by clicking on the article name or page number.
We hope you will be blessed and edified by this electronic edition of the Haddington House Journal 2022.